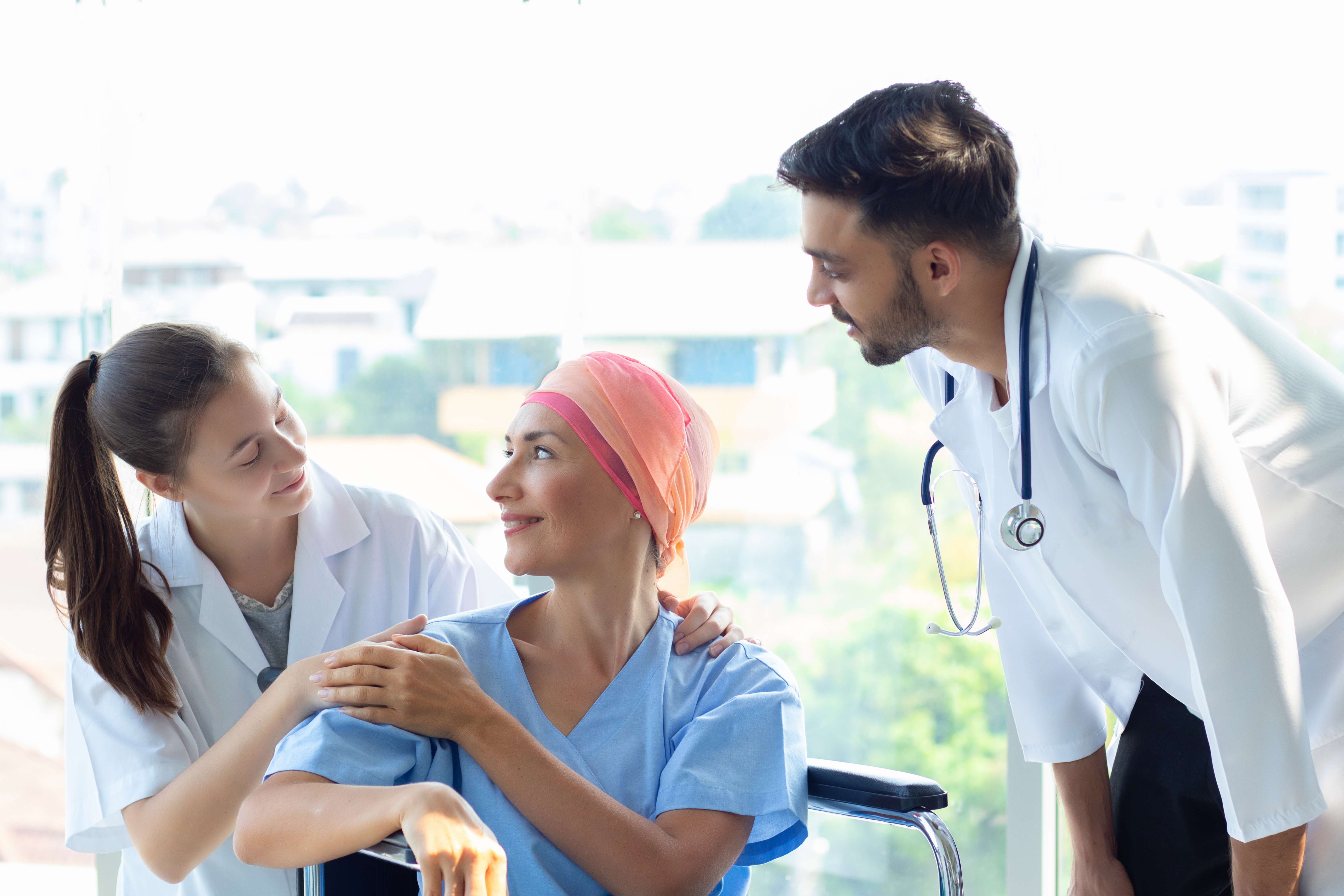 Cancer: Getting Support Through Health Insurance
Created: 04/02/2021
Being diagnosed with cancer is often an extremely stressful time. In addition to the mental and physical strain of diagnosis and treatment, in many cases cancer can have a devastating financial impact.
On average in Ireland, the cost of having cancer is estimated to be between €756 and €1,000 a month. This would be unmanageable for many people, but when you consider the potential earning losses associated with having cancer – such as having to leave your job, reduce your working hours, close your business or take time off – the financial burden of diagnosis could be detrimental.
Unfortunately, it isn't uncommon to find yourself in this situation: a staggering one in every two people will suffer from cancer in their lifetime. As a result, awareness around the causes, signs and treatments for cancer is crucial.
Having the right health insurance can often help you get an early diagnosis, access private treatment quickly, and reduce the financial impact of having cancer. However, with insurance policies being subject to waiting periods – and usually excluding pre-existing conditions – it may be too late to start looking for cover once you've been diagnosed or started noticing symptoms.
Of course, we hope you never you need to access these benefits. But, if you do, having the right plan in place could be crucial. We outline how all three of Ireland's health insurance providers can help with cancer diagnosis, treatment and ongoing support.
For further advice and support, submit your details below for a health insurance review with one of our experts!
Diagnosis
Spotting the signs of cancer early can have a huge impact on the outcome of your treatment. Irish Life Health, Vhi and Laya all offer health screenings to help you proactively reduce your risk of cancer, receive an early diagnosis, and get on the road to recovery sooner rather than later.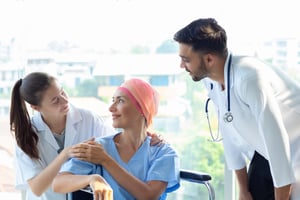 Through all three insurance providers, members can access a variety of diagnostic screenings and tests to help identify and understand your cancer – such as Mammograms, CT or MRI scans. This may depend on the plan you're on so be sure to check your policy to ensure you have access to the right support for you.
Depending on your level of cover and chosen plan, Irish Life Health offers contributions towards health screenings in your choice of centre. Discounts are also available for in-clinic health screens with Charter Medical Group: 31% for Medi health screens and 29% for Executive health screens.
Likewise, Laya also offers coverage for cancer screening – including colon, cervical, prostate and breast cancer. With Vhi, you have the option to pay for a one-off cancer screening, costing €220. In addition to colorectal, prostate and breast cancer screening, Vhi's CancerCheck also includes a 45-minute consultation with a doctor to discuss risk factors, family history, symptoms and prevention advice.
However, access to health screening may be restricted by certain medical criteria. For example, Laya specify that colon screening is available 'once certain clinical indicators are met' – so, as always, check your policy to understand what benefits you can access.
Genetic Testing
If you have a family history of breast, ovarian or colorectal cancer, you may wish to speak with your GP about genetic testing to identify whether you're at risk of developing these cancers. In most cases, you will be able to claim money back from your insurer for these GP appointments.
Following a discussion with your GP, you will be referred to a consultant if a test is deemed necessary. A genetic testing consultant will carry out a blood test, deliver your results, and discuss any prevention advice or further steps.
All three insurance providers offer cover for genetic tests for mutations associated with the most common hereditary cancers in Ireland – breast, ovarian and colorectal. At Laya, over half of their plans offer cover for genetic screening; while Vhi and Irish Life also offer comprehensive cover on a variety of their plans.
Second Opinion
If you have any concerns about your diagnosis or treatment plan, getting a second medical opinion can help provide peace of mind that you're getting the right care. Each provider offers a scheme for accessing a second opinion from an international specialist: Vhi's 'Best Doctor'; Laya's 'Consultant Connections', and Irish Life's 'International Second Opinion Service'.
Treatment
The options for cancer treatment are vast, and your care plan will depend heavily on your condition and personal preferences. Through health insurance, you will be able to access private care in a public, private or even high-tech hospital, depending on your level of cover.
Irish Life, for example, offer a wide range of benefits for cancer treatment, such as chemotherapy, radiotherapy, Oncotype DX tests and FoundationOne Oncology Genetics.
All Laya members are covered for a range of treatments, including chemotherapy, radiotherapy and surgery. Laya also offers a number of additional benefits, such as cover for hair pieces and sleeping caps, manual lymph drainage, and breast prosthesis.
You may also be able to claim back some of the cost for home treatment, should this be recommended by your oncologist. Additional benefits, depending on your provider and policy, include contributions towards travel and accommodation expenses, cover for a Medicall ambulance, and access to alternative treatments.
Many plans also offer money back for GP and consultant appointments, helping you to manage and reduce the financial strain of diagnosis.
Ongoing Support
Health insurance can also provide continuous access to medical professionals throughout your care. Irish Life offers 'Nurse on Call', a service providing 24/7 over-the-phone access to a qualified nurse for any questions or additional support. Likewise, Laya's 'CareOnCall' service gives unlimited access to nurses and GPs to discuss symptoms, treatment and any concerns, as well as an online prescription service. At Vhi, their service is 'NurseLine' - which also provides 24/7 access to a qualified nurse over the phone.
While supporting you to access care and reduce the expense of private treatment, your health insurance can also help improve and maintain your mental wellbeing. For example, Irish Life offer money back on the cost of Psycho-oncology counselling for cancer patients. We explored the various benefits available for mental health in our recent blog.
Get a Plan in Place
We know all these options can be overwhelming. No one wants to consider the possibility of getting cancer – but having the right health plan in place can help give peace of mind that, should the unimaginable happen, you'll have access to the right care and treatment for you.
Having adequate cover for treatment could prove crucial financially. Private health care is expensive, and we often see long waiting lists for public treatment. With the right health insurance, you can manage and reduce the cost of accessing private treatment, while receiving that treatment quicker than through the public health service.
Speaking with a health insurance broker can help you choose a plan that suits your unique needs and priorities. There are over 320 plans available in Ireland – so finding the right one for you can feel like looking for a needle in a haystack.
Our health insurance experts are helping to make choosing a plan easy and stress-free. With our extensive knowledge of the health insurance market, including what plans and benefits are available through each of the three providers, we can find the one that best matches your needs.
For expert health insurance advice, get in touch with our team by filling out the form below. Alternatively, you can hit 'Get a Quote' and start comparing plans today.